MAINE STATE CREDIT UNION OFFERS MEMBERSHIP IN FOUR NEW COUNTIES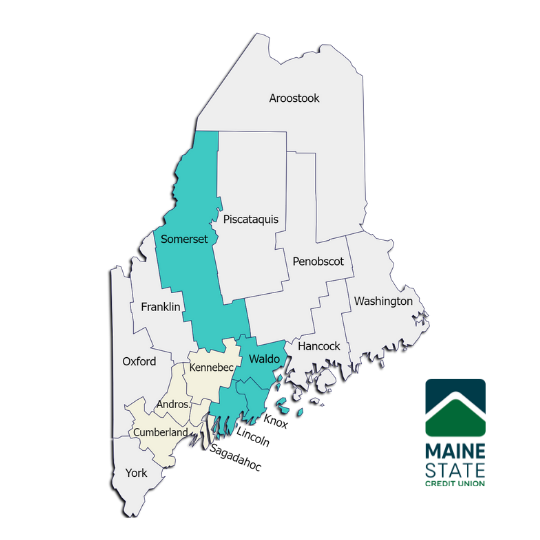 Augusta, ME - June 8, 2022 – It is with immense pleasure that we can officially announce our expansion into Knox, Lincoln, Somerset, and Waldo counties. On Thursday, June 2nd, 2022, the Bureau of Financial Institutions of the State of Maine approved the request for MSCU to expand into four new counties. Residents in those counties who live, work, worship, volunteer, or attend school in these counties can now be members of Maine State Credit Union.
President and Chief Executive Officer, Stephen Wallace, states, "Growth and new market share are essential to our members. Our goal is to always provide excellent service, innovative technology, and competitive rates. By expanding, we're keeping that promise."
Our expansion means membership is now available to 54% of the Maine population. By early 2023 we are opening two new branches and creating approximately 20 new jobs. Expanding into new areas means more community outreach and giving back to the State as a whole. Membership includes the most innovative and customer-centric ways to manage your money: online, on your mobile device, in person or over the phone. MSCU's several financial services like business and personal loans, checking accounts, savings accounts, and other banking solutions mean we can help Mainers at every growth stage. Belong with us.
About Maine State Credit Union
Maine State Credit Union is one of the largest credit unions in Maine, with over $575 million in assets. Located in Augusta, Maine, it employs over 100 Mainers and has been on the Best Places to Work in Maine list for the past nine years. It was founded in 1935 under the stairs in the Maine State House as a place for the state employees to bank; now, it has over 32,000 members and serves the residents of Androscoggin, Cumberland, Kennebec, Knox, Lincoln, Somerset, Sagadahoc, and Waldo counties. Learn more at MaineStateCU.org.
Media Contact:
Ariel Carron
Marketing & Communication
200 Capitol Street
Augusta, ME 04330
Email:acarron at mainestatecu dot org
Phone:207-623-1851 x0712