Maine State Credit Union Makes Forbes Best-In-State Credit Unions 2nd Year In A Row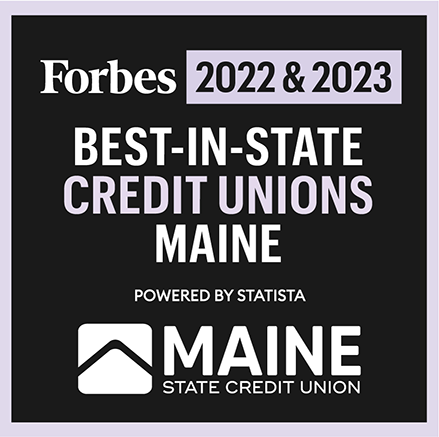 Augusta, ME – July 20, 2023 – For the second year in a row, we are pleased to announce that we have made the Forbes Best-In-State Credit Unions for the State of Maine. After our recent Grand Opening in Rockland, we are further electrified to hear our members have voted us once again as among the best in the state. Your trust in us is immensely appreciated and we thank you.
President and Chief Executive Officer, Stephen Wallace, states, "We are truly humbled and thankful for our members' support and recognition. When they asked us for services – we launched a new digital banking platform and opened two new branches in Gray and Rockland. We listened and it is incredibly satisfying to see the returned member impact come full circle with this Forbes Best-In-State recognition. Our bottom line is that members are happy; period."
More Mainers than ever can be part of our membership community. Across the state, members voted their overall satisfaction with us, our customer service, and our trustworthiness among the best. We can confidently help manage your money: online, on your mobile device, in person or over the phone with business and personal loans, checking accounts, savings accounts, and other banking solutions. We aim to help Mainers at every life stage. Belong with us.
Forbes and Statista Survey
Forbes and Statista identified America's Best-In-State Credit Unions 2023 based on an independent survey of approximately 26,000 US consumers who were asked to rate credit unions at which they currently use, or previously have used, a service. Participants made recommendations regarding overall satisfaction; they also assessed credit unions in the following areas: Trust, Terms & Conditions, Branch Services, Digital Services, Customer Service, and Financial Advice.
About Maine State Credit Union
Maine State Credit Union is one of the largest credit unions in Maine, with over $600 million in assets. Located in Augusta, Maine, it employs over 120 Mainers and has been on the list of Best Places to Work in Maine for the past ten years. It was founded in 1935 under the stairs in the Maine State House as a place for the state employees to bank; now, it has over 35,000 members and open to all Mainers in Androscoggin, Cumberland, Kennebec, Knox, Lincoln, Somerset, Sagadahoc, and Waldo counties. Learn more at MaineStateCU.org.
Media Contact:
Jennifer Roper
Vice President of Marketing
200 Capitol Street
Augusta, ME 04330
Email: jroper at mainestatecu dot org
Phone: 207-242-4290